Aviation Maintenance and Repair Station Management Software
Top-rated software by technicians, mechanics and managers to streamline and improve aviation maintenance tracking and operations.
DITCH PAPER, SPREADSHEETS & OUTDATED SOFTWARE
Scale & Optimize Your Aircraft Repair Workflows
EBIS, a preferred solution of aviation technicians and mechanics, helps maintenance teams and leaders more effectively manage their end-to-end aircraft maintenance workflow.
Serving Small to Large Repair Stations and Aviation Maintenance Facilities
POWERFUL NEW FEATURES
EBIS Features & Benefits
OPTIMIZE PROCESSES
Paperless Work Orders
Core Module allows users and technicians to:
Track and manage assets
Integrate equipment manuals
Optimize preventive maintenance program
Create and track work orders
Manage and track core credits
Issue purchase orders
Invoice 3rd parties
Manage returns
OPTIMIZE PROCESSES
Customer Invoicing
The core version of EBIS has functionality to generate invoices to your customers and for internal tracking. It contains various details such as parts, labor, shipping, taxes, and additional charges.
As part of system set-up, one can create default hourly billing rates, minimum hours, overtime rates, parts markup, outside labor hours, outside parts markup, shop supplies, and miscellaneous charges which can be updated as needed.
IMPROVE SAFETY, ACCURACY & EFFICIENCY
Media Capabilities
Use media capabilities for unlimited photos, videos and documents.
Add SOP's, Scope of Work statements, photos, videos, etc.
This media is used in equipment, work orders, parts, preventive maintenance and additional areas throughout the system.
STREAMLINE WORKFLOWS
Parts & Inventory Management
Track inventory, create purchase orders, sell parts directly to customers, and create barcode labels.
Manage parts inventory and catalogs
Maintain parts catalogs at the users' fingertips
Track equipment and component warranties
Integrate with parts providers
LESS MANUAL ENTRY
Streamlined Logbook Entries
Generate logbook entries in a few clicks from the system. Populate documents with pre-configured statements from FAA.
RUN IT ANYWHERE
Intuitive Mobile Platform
Enable technicians to work remotely and in real-time with all necessary information at their fingertips.
Multiple operating systems - Works on both iOS and Android
Full work order capabilities - view and order parts, find equipment on the map with telemetry integration, take photos and videos of equipment and parts and view equipment manuals and memos
Bar-coding - technicians can easily scan and start work
Accessibility - Equipment inventory can be accessed, and photos can be added as part of the workflow
Administrator functions - reset and unlock user passwords from anywhere
Simple and intuitive design - technicians can learn and use the capabilities easily
Secure & Scalable
EBIS 5, the new cloud-based version, combines modules and processes from our two products, EBis 3.2 and EBis GSE 2.4, into a new platform. EBIS 5 is designed with the latest technology used by major tech companies and is built on Microsoft's Azure cloud platform for reliability, scalability, security, and redundancy.
EASILY GET STARTED
Interactive Walkthroughs
Guided onboarding helps you and your technicians get started quickly.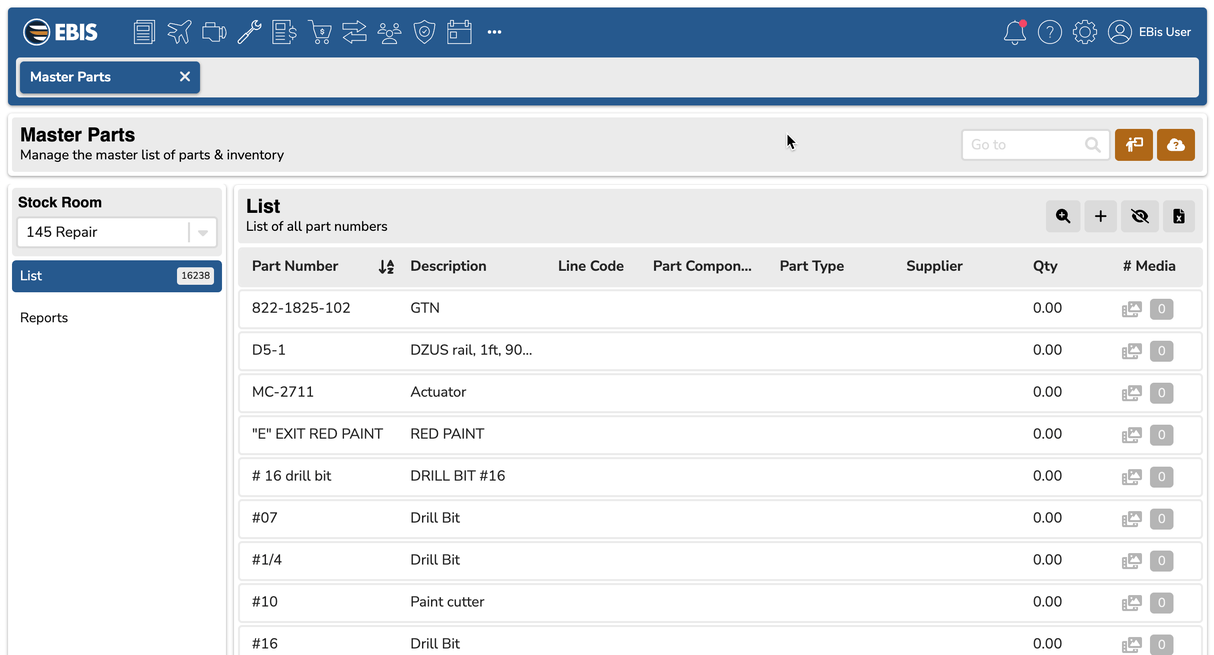 Easy-to-Manage User Profiles
Unlimited Users for Technicians
Company Logo Configuration
Master Parts with Multiple Stock Rooms
Purchase Orders with External Vendors
Tooling with Advanced Checkout, P/O Integration
Advanced Parts and Supply Chain Management
Don't miss out. Get notified on new aviation asset management posts and updates on EBIS software.
We'll send regular email updates on news, ideas and discussion on topics for aviation owners, operators and managers.
Join the mailing list.